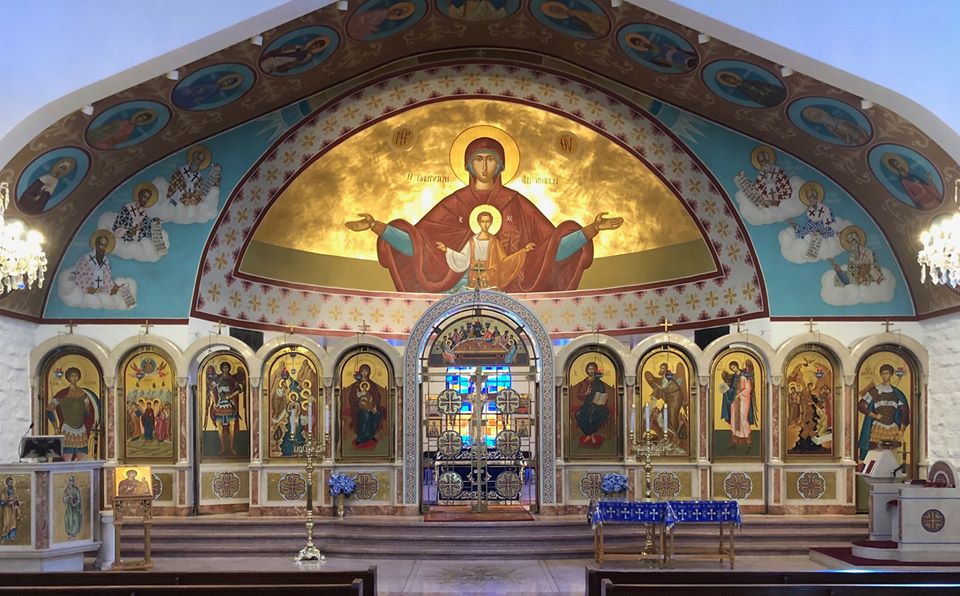 To our St. John the Baptist Community...
A LOVING FAREWELL AND WELCOME
On Tuesday, December 15th, His Eminence Metropolitan Gerasimos met with the Parish Council to formally announce the retirement of Father John, effective December 31, 2020. We all share in the joy of celebrating Father John's many years of leadership and ministry to each of us, and every parishioner of our beloved St. John the Baptist Church. May God grant you good health and joy in the Lord, knowing that you have served faithfully and lovingly all of the Holy People of God throughout your entire priestly vocation "after the order of Melchizedek" Psalm 110:4. Many years to you, Father John!
Simultaneously, His Eminence also announced to the Parish Council the assignment of Father Christopher Retelas, currently the Assistant Priest at St. Anthony Greek Orthodox Church in Pasadena, as our new Proistamenos. Father Christopher's assignment is effective January 1, 2021. We open our hearts and minds to our new Proistamenos, who will build and cultivate our community into the future. We welcome his beautiful family, Presvytera Kalli, Simi, and Demetri. Many years to you, Father Christopher!
CHURCH SERVICES
We are pleased to welcome you back to in-person worship services within St. John the Baptist. Reservations are required for all services. Register at the following link: RESERVATIONS
Orange County remains in the most restrictive level - Purple Tier. As a result, Church services on Sunday will be held outside. Registration is required as part of the COVID-19 restrictions on collecting contact information. Face masks and 6' distance spacing are still required outdoors. Please understand that when we reach seating capacity under the tent, there will be limited seating available outside the tent. Call the Church Office when the Sign-Up registration is full to be added to the overflow list.
Church services are: 9:00 am Orthros / 10:00 am Divine Liturgy
We will continue to broadcast services on Facebook, YouTube and on the "Live Streaming" tab on this website.
The Church Office continues to operate on limited hours. If you need to come to Church, please call first to schedule an appointment. If you need assistance or have questions, please call the Church Office at 714-827-0181. The telephone and answering machines are being monitored.
We look forward to once again welcoming you back to worship at St. John the Baptist.
_____________________________________________________________________________________
+ Light a Candle +
We know that at this time it can be difficult to pray from home and not physically be in the church. Lighting a candle is one of the first acts we do as we enter the Church. The candle is an indicator of our burning faith and desire to communicate with the Almighty God and to ask for His mercy. Our Lord tells us: "...let your light shine before others, so that they may see your good works and give glory to your Father who is in heaven" (Matt 5:16b, ESV).
If you would like a 7-day vigil candle lit in the Church, Father John and Father Constantine will light the the candle for you and pray for you and your family.
We ask for a minimum donation of $10 per 7-day vigil candle. Simply go to the One-Time Offering on our website "Giving Page" to make your donation, or mail the donation to the Church Office. You may also use your VENMO App. Search for @stjohnbaptist. Remember to include your prayer request and names.
_________________________________________________________________________________
Sharing the Gospel in Orange County since 1961.
"Come to me, all you who are weary and burdened, and I will give you rest. Take my yoke upon you and learn from me, for I am gentle and humble in heart, and you will find rest for your souls. For my yoke is easy and my burden is light." Matthew 11:28-30 New International Version (NIV).
Do you feel burdened? Are you in need of spiritual support and nourishment? Are you looking for a place to come and find rest in the midst of Christ-loving believers?
In a world where moving "100 miles an hour" is normal, the Greek Orthodox Christian Church, the fullness of God's revelation of Himself in the midst of His creation, calls us to slow down and meet God in the present moment. In being present, and learning how to encounter God and one another, we slowly begin to learn what it means to "...love the Lord your God with all your heart, with all your soul, and with all your mind, [and] ...love your neighbor as yourself". Matthew 22:37,39 New King James Version (NKJV)
Come join us for services, and experience the love of Christ, in and through the St. John the Baptist community!
Saint John the Baptist's Church is located in beautiful Orange County, California. We offer many activities and programs for all ages, including Studies in the Faith, Church Choir, and Ladies Philoptochos Society. Our Sunday School Program seeks to nourish the souls of our children from Pre-Kindergarten through High School. Community is one of our major strengths - come join us! See our Parish Ministries page for more detailed descriptions.
Visit our Parish Calendar and get up-to-the-minute information and schedules of all activities.
Also, please use our website's What We Believe Section as a valuable resource to explore the power and beautiful of Orthodox Christianity.
Online Chapel
Today's Readings
Saints and Feasts Commemorated
Visit the
Online Chapel
for more daily readings, hymns, a monthly calendar of saints and feasts, and more.